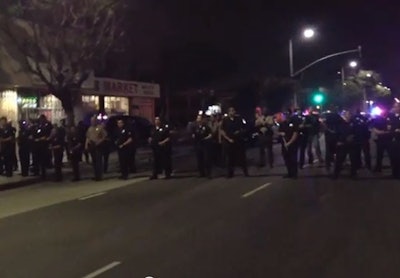 USC students protested Monday against the Los Angeles Police Department and accused its officers of racial bias for breaking up two raucous parties early Saturday near campus.
The students said officers were racially biased and used heavy handed tactics, an allegation the agency has refuted. An LAPD spokesman told the Los Angeles Times that officers donned riot gear to break up two house parties after they were pelted with debris. Campus officers also responded to the incident.
Six partygoers were arrested during the chaotic incident and officers used force on one partygoer because he resisted arrest, according to the LAPD.
Students posted videos and tweeted about the clash with officers.