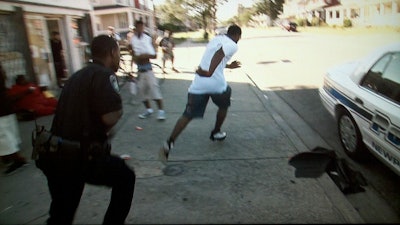 Television's longest-running series moved to the Spike network after Fox canceled the police reality show Monday. "Cops" will wrap up its 25th season later this month and restart in September on Spike with new episodes.
Show creator John Langley told Variety he was "delighted to find our new home with the Spike family." He also produced "Undercover Stings" for Spike.
Cops debuted in 1989 and celebrated its 25th anniversary this year. The show has aired more than 900 episodes filmed in 140 cities. The show, which airs at 8 p.m. Saturday, has been drawing more than 3 million viewers each week. Spike will keep it in its customary time slot.
In April, a civil rights group took out ads in Ad Age magazine and Daily Variety demanding that Fox drop the police reality show for "exploiting negative racial stereotypes."
Rashad Robinson, executive director of Color of Change, said the show has "turned the criminalization of black folks and other communities of color into entertainment for millions—all while lining the pockets of Fox with advertising dollars."