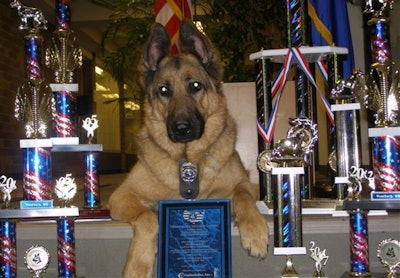 A Minnesota agency's police dog euthanized April 30 left a lasting legacy in law enforcement after enduring a stabbing, kicking, and near drowning.
Roseville Police Officer John Jorgensen used to call his German shepherd Major indestructible. Major was forced to retire from law enforcement in 2010, when a burglary suspect stabbed him several times, leaving his rear legs paralyzed.
Major's sacrifice will help the state's working police dogs. Officer Jorgensen pushed for harsher penalties for those who assault police dogs. In 2011, Gov. Mark Dayton signed new legislation that makes any assault resulting in substantial bodily harm to a police K-9 a felony, reports the Pioneer Press.