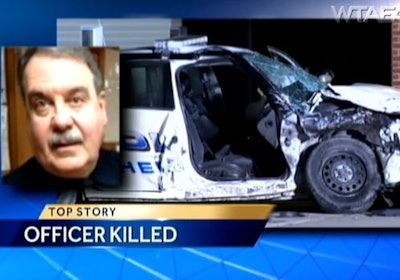 A Shenango Township (Pa.) Police officer was killed Thursday night, when an unlicensed driver sideswiped the police cruiser during a pursuit.
Officer William J. McCarthy and his partner, Officer Michael Lynch, were attempting to get in front of a vehicle driven by Kylee Barletto, 27, to get far enough ahead to lay spike strips or create a roadblock when she sideswiped their police cruiser.

The officers had joined a pursuit initiated by the New Castle Police Department, who attempted to pull over Barletto's Pontiac Sunbird at 10 p.m. During the pursuit, Barletto blew through several stop signs, and t-boned the officers' cruiser, according to the Pennsylvania State Police.

Officer McCarthy, 60, was riding in the passenger seat of the cruiser, Trooper Randy Gui told POLICE. Barletto's license had been suspended when she failed to appear in court for a citation. Barletto will be arraigned when she is released from the hospital.