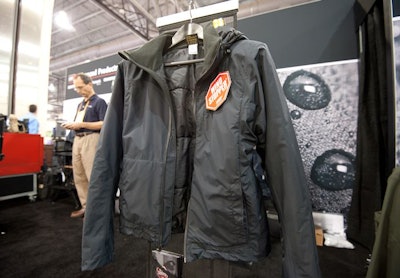 New Gore-Tex outerwear such as patrol jackets, base layers, rain pants and CBRN gear will be available by Nov. 1, W.L. Gore & Associates announced at the IACP Conference in Philadelphia.
Gore will offer the outerwear to officers under a partnership with manufacturer Forum Industries using a factory-direct model that allows officers to acquire it for a lower cost. The gear can be customized and the minimum order will be one item.
Gore will offer two patrol jackets, including the Wind Stopper lightweight loft duty jacket and another Wind Stopper loft jacket with added insulation. Both jackets use Primaloft insulation, a type of synthetic down fabic originally developed for the U.S. military. The jackets will retail for $219 and less than $200 respectively, the company announced.
Gore will also introduce its Wind Stopper base layer available as a top or bottom for $49 each. A pair of rain pants will also be offered at a price to be determined.
Gore also unveiled a trio of chemical-biological protective suits in its Chempak line. The Multi-Threat is hot-zone certified to deadly threat levels and offers no breathability. The suit uses conductive cooling and retails with Blauer or Lion branding for at least $1,700.
The XRT suit is selectively permeable and rated to Class 3 threats with a lower concentration. It retails with Blauer or Lion branding for at least $500. Gore-Tex also designed the CPCS undergarment with Class 3 certification. The undergarment and suit retails with Blauer or Lion branding for at least $800 depending on which components are included. The undergarment is selectively permeable.