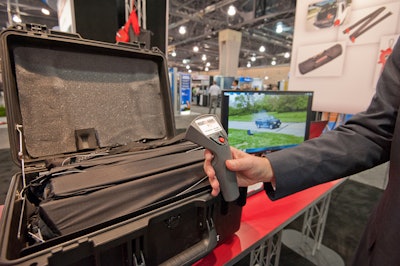 StopTech's Night Hawk tire deflation system will be available to law enforcement agencies in early 2014, the company announced at the IACP Conference in Philadelphia.
The Night Hawk offers an airbag-like launching system that propels a string of tire deflation sticks into a roadway, allowing the officer to remotely deploy the sticks from as far as 100 feet away. The Night Hawk will be available by April 1, a company executive told PoliceMag.com.
The Night Hawk arrives packed inside a Pelican hard case. It offers a two-button discharging system that allows an officer to arm the device and remotely deploy the Stop Sticks from a distance. A charge deploys 10 15-inch sticks that are connected with a string.
The system was designed to enhance the safety of an officer who must typically throw the sticks into the path of a suspect's oncoming vehicle.
"It's an alternative way to deploy Stop Sticks," said Andrew Morrison, Stop Tech's managing director. "You can get 100 feet in any direction, even above it. It gets officers out of the way."