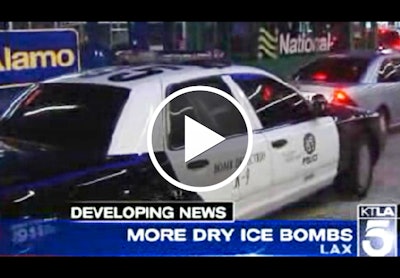 VIDEO: LAPD Responds to Dry Ice Bombs at LAX
FBI and LAPD investigators are trying to determine the identity of a bomber who has attacked Los Angeles International Airport (LAX) with four dry ice bombs since Sunday.
One bomb exploded Sunday inside a restroom in a restricted area of the airport. Another exploded last night about 8:30 p.m. in an employee-only area of the Tom Bradley International Terminal near Gate 148.
Two other unexploded dry ice bombs were recovered in a space not accessible to the general public, Los Angeles Airport Police Sgt. Karla Ortiz told KTLA TV.

An LAPD bomb squad and the city fire department were on scene Monday night, and detectives from the criminal conspiracy section were also responded, LAPD Det. Gus Villanueva told KTLA.
Police do not believe the bombs were placed by terrorists.