VIDEO: Officers Fire at Suspect In D.C. Chase
A Connecticut woman who attempted to ram her car into a White House security barrier on Thursday afternoon was shot and killed at the U.S. Capitol after a pursuit in which two law enforcement officers were injured.
The pursuit began after a black sedan struck a security post at the White House entrance near 15th Street and Pennsylvania Avenue NW. A bystander captured video from the pursuit that shows officers closing in the sedan and firing several shots as the driver rams a police vehicle before fleeing. That driver has been identified as Miriam Carey, a 34-year-old dental hygenist who once liked in Brooklyn, reports the New York Daily News.
With her year-old baby riding in a leased Infiniti, Carey led U.S. Capitol Police officers and Secret Service agents on a chase along the west side of Capitol Hill. At one point, the sedan struck a Capitol Police cruiser. The sedan then attempted to ram the gate at the Hart building, reports the Washington Post.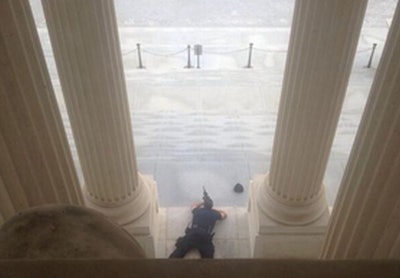 Carey was fatally shot multiple times by multiple officers after leaving her vehicle and attempting to flee the scene, reports CBS News.
The pursuit "appears to be an isolated incident" and is not considered a terrorist act, Capitol Police Chief Kim Dine told reporters.
U.S. Capitol police involved in the incident are not being paid and can't earn hazard pay due to the federal government's partial shutdown. Officers haven't been paid since Tuesday, reports Fox News.
The U.S. Capitol reopened about 40 minutes after reports of gunfire. Buzzfeed's Kate Nocera tweeted a photo of a prone officer firing a rifle at the scene.