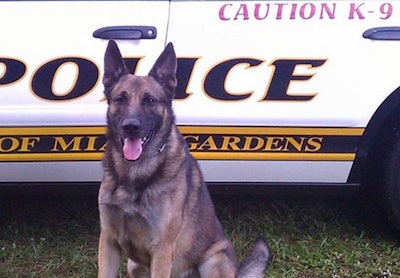 The Miami Gardens Police Department will mourn one of its K-9 officers Wednesday after the police dog was killed investigating a burglary.
Max, a German shepherd, was mortally wounded when a glass panel fell on him on Sept. 12. Officer Chirs Bezio had sent Max into a residence at 740 NW 176th Terrace to confirm that subjects were still inside the home.
Max entered through a jalousie window, and a pane of glass collapsed, causing a severe laceration to his ear, according to a Facebook page honoring Max.
Max was immediately transported to Hollywood Animal Hospital where veterinarians performed surgical procedures to repair the laceration. During this procedure, Max's cardiovascular system failed.