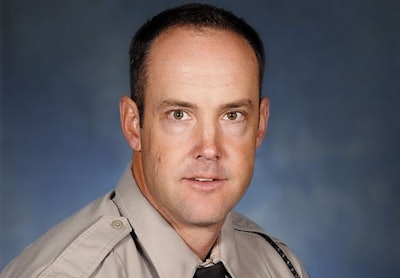 An Arizona highway patrol officer is expected to fully recover from a traffic stop ambush on Saturday that led to a high-speed pursuit and the death of the suspect.
Cody Archuleta, 22, opened fire on Department of Public Safety Officer Seth Meeske, a 39-year-old veteran who pulled over his white passenger car at 10 p.m. Saturday in Payson in the Tonto National Forest.
As Officer Meeske approached the right side of the car, Archuleta shot him three times through the passenger window. Officer Meeske was hit in the forearm, left leg, and on the back of his ballistic vest, the agency announced Monday.
After he was struck, Officer Meeske began bleeding heavily. He radioed dispatchers with the vehicle's description and drove himself to a Payson hospital.
Officer Robert Derango, a 25-year-old DPS officer on his first day of work, pursued Archuleta north on State Route 87. Officers from the Payson Police Department and Gila County Sheriff's Office joined the pursuit, which stretched for 40 miles and reached speeds of more than 100 mph.
While being pursued by seven police cars, Archuleta crashed into a ditch about 12 miles north of State Route 260. He exchanged gunfire with those officers and was later found with a self-inflicted gunshot wound.