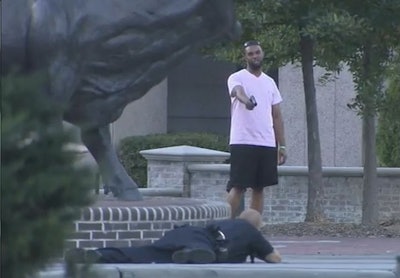 A distraught man who taunted Durham (N.C.) Police officers to "shoot me" during a downtown standoff has died after an officer shot him when he pointed a gun at police.
The incident began at 4:15 p.m. Tuesday, after the man drove to CCB Plaza and walked around holding a gun to his head, reports WRAL. He wore a pink shirt and black shorts. After negotiating with police for about an hour, the man pointed his weapon at an officer hiding behind the Durham bull sculpture.
The man, who has not been identified, died after being transported to the hospital for treatment, reports the Duke Chronicle.