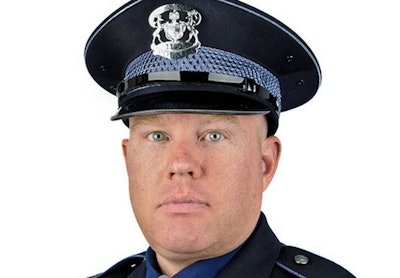 A Michigan trooper died late Monday after he was shot in the head at a vehicle stop in a rural area in the western area of the state.
Trooper Paul Butterfield, 43, helped lead law enforcement officers to his alleged killer by radioing location and vehicle information before he was shot, reports MLive.com.
Butterfield pulled over a vehicle on Custer Road in Mason County at around 6:20 p.m. Several minutes later, a motorist called 911 to report that the trooper was on the side of the road with a head wound. He died during emergency surgery.
Butterfield, a 14-year veteran of the Michigan State Police, was assigned to the Hart Post (No. 62). Gov. Rick Snyder called the trooper's death a "tragic event" for Michigan.
"This senseless incident is a grim reminder that our brave public safety officers put their lives on the line every day when they go to work protecting Michiganders," Gov. Snyder said in a statement. "They are heroes. Our hearts break when a Michigan State Police trooper, or any of our other police officers or firefighters, is killed in the line of duty."