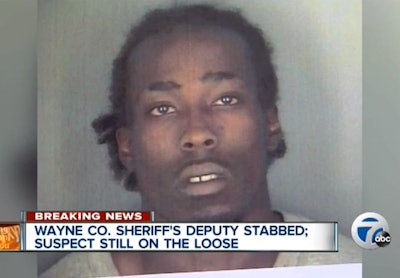 Detroit-area law enforcement launched a sweeping manhunt Monday for a prisoner who stabbed a sheriff's deputy and escaped from custody with his uniform.
Wayne County Sheriff's Deputy Harrison Tolliver was transporting Abraham Pearson (also known as Derreck White, Weezy, and D.C.) to a holding cell at the Frank Murphy Hall of Justice, when Pearson attacked the deputy.
Pearson, 25, was scheduled to appear on carjacking charges, reports the Detroit News.
Deputy Tolliver had removed Pearson's handcuffs to place him in the holding cell, when the prisoner stabbed the deputy in the neck with a plastic comb he had fashioned into shank. Pearson took the deputy's uniform and carjacked a silver Dodge minivan, which was later found abandoned.
Dozens of SWAT officers and K-9 units began searching the east side of Detroit near Belle Isle following the escape.