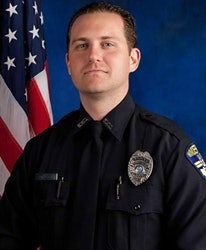 A Windermere, Fla., police officer was shot and killed Saturday morning apparently by a suicidal teen.
Officer Ron German, 31, was responding to a suspicious persons report when he was attacked.
Four Orange County Sheriff's Office deputies, an Orlando officer, and an Ocoee officer responded to the call.
They found German shot and down. Then they heard more gunfire.
The two teenagers—Brandon Goode, 18, and Alexandria Hollinghurst, 17—were found dead nearby, WFTV TV reports.
Authorities believe one of the teens shot German and then both committed suicide.