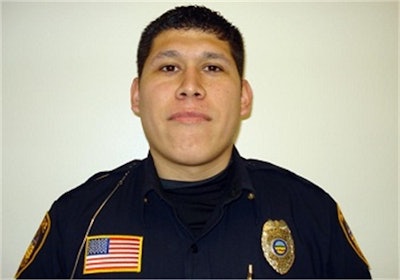 Igmidio "Roger" Mista, 33, is charged with shooting and killing off-duty Elmore police Officer Jose Andy Chavez, 26; bartender Ramiro Sanchez, 28; and Daniel Ramirez, 25, while celebrating the officer's birthday at a bar. A fourth man, Ramiro Arreola, 25, was shot in the shoulder, reports the Toledo Blade.
Elmore (Ohio) PD police grieved the loss of Chavez, an officer for two years. He graduated from Fremont's Ross High School and attended Owens Community College. The officer was married and had two children, a 16-month-old boy and a 6-year-old girl. He also was a volunteer coach for the Woodmore High School boys soccer team.
"There was a report that a punch was thrown, and then Roger Mista then took over for his friend and shot a person. And then, we think, started to exit but was randomly shooting people at his exit," said Fremont Police Chief Tim Wiersma.
Mista has been charged with three counts of murder and remained in custody without bond late Monday.
Related: