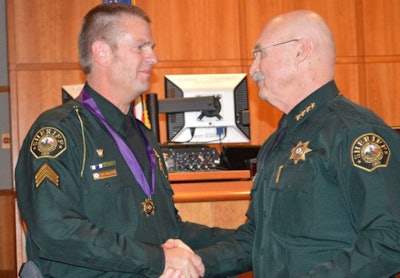 A motorcycle officer with the Jefferson County (Colo.) Sheriff's Office was killed while on patrol Sunday at 10:05 a.m., after being struck by car that crossed double yellow lines to illegally pass on Hwy. 93. Sgt. David Baldwin was a military veteran in the U.S. Air Force as well as a highly decorated 27-year veteran of the agency, according to a statement from the sheriff's department.
Sgt. Baldwin began his law enforcement career with the Sheriff's Office in 1987. He was promoted to the rank of sergeant in 1996, and worked varying assignments in the Detentions Division, Civil & Fugitive Unit, Bomb Squad, Patrol Division, and most recent assignment to the Traffic/Motorcycle Unit. Sgt. Baldwin's passion for teaching was evident; serving as a firearms instructor, driving instructor, and instructor for the Basic and Advanced Law Enforcement Motorcycle School.
"It takes a special kind of person to take an oath to protect and serve their community, and to constantly place the safety of others above their own," said Sheriff Ted Mink. "Dave will be remembered for his love of family, his duty to service, and his dedication to this community."