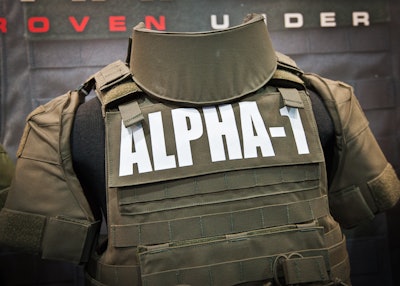 Point Blank Enterprises showed an expanded line of its Alpha Elite series NIJ Level II and IIIA tactical and concealable body-armor systems this week at the SHOT Show. Alpha Elite was previewed at the International Association of Chiefs of Police trade show in October.
Featuring Dyneema Force Multiplier Technology by DSM, Alpha Elite armor is available in both concealable and tactical configurations. Point Blank says independent testing has confirmed that Alpha Elite is the lightest and highest performing NIJ 0101.06 body armor currently available. In addition to NIJ .06 certification, Alpha Elite Level II and IIIA products have passed the FBI's test protocol.
"Rigorous testing by independent labs has shown the Level II and Level IIIA Alpha Elite products are the best performing and lightest-weight products on the market today, and we are able to offer them at a cost that is comparable to other soft-armor ballistic solutions," says Michael Foreman, vice president of government and international sales and head of product-line management at Point Blank Enterprises. "We are thrilled that we can offer this revolutionary product that was designed to meet the rigorous demands of U.S. Special Operations forces deployed in the world's most dangerous regions to law enforcement, federal, military and special-ops personnel at home and around the world."
Foreman adds, "We are particularly proud to be featuring, for the first time at SHOT Show, the Alpha Elite Level II product, which has proven to be 20 percent lighter and six percent higher performing than the best NIJ .06 Level II models previously on the market. The array of products provides consumers with a broad spectrum of choices to fit the strategic needs of their missions."
Alpha Elite armor packages are now available in Point Blank's new Elite concealable carrier and the Alpha-1 tactical armor systems for both male and female officers.
The Alpha-1 tactical carrier features Point Blank's new Selective Point Release System that allows the wearer to quickly remove the armor by releasing three hook-and-loop enclosures. Assembly and disassembly is quick and easy and requires no manipulation of wires.