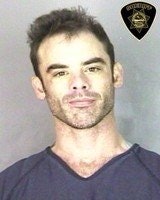 A Beaverton, Ore., man was arrested following a string of erratic outbursts that culminated in the suspect allegedly masturbating in a Salem roadhouse, officials told the Oregonian newspaper.

It took a TASER and more than a dozen officers on Sunday to finally subdue Andrew Frey inside Iggy's Bar & Grill on Portland Road Northeast, the Marion County Sheriff's Office said.

The 37-year-old man later told authorities he had used methamphetamine the day before and had no recollection of the alleged wild behavior, according to officials.