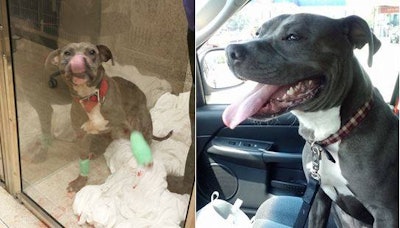 Cleveland police officers were called to the scene of E. 138th Street and Harvard Ave., after witnesses reported resident Peris Rice was standing in the street beating a dog with a belt and a brick and then tried to choke him. But now an officer who responded plans to adopt the injured Pit Bull, reports Yahoo Shine.
Since the incident Patrol Officer Brandon Melbar has been fostering the dog and making sure that the pup is on the road to recovery. And according to a statement on the Cleveland Police Facebook page, Officer Melbar has decided to adopt the dog and name him Harvard.
Badges for Bullies, an organization that fosters the relationship among police, the animal rescue community, and the general public, paid for the costs of Harvard's treatment and follow-up care.