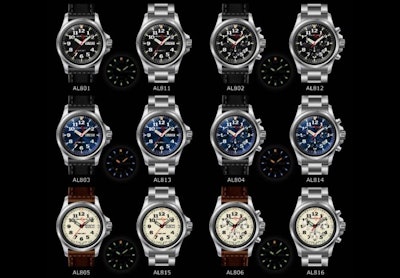 ArmourLite will preview its Officer Field Series watches at JCK Las Vegas 2014. The all-new ArmourLite Officer Field Series watches offer ArmourLite's distinctive Armourglass crystal and colored tritium markers for great night visibility.
Armourglass is a shatterproof crystal that is eight times stronger than a standard watch crystal. Supporting the Armourglass is ultra-tough stainless steel case construction with a dive-friendly water resistance of 100m. The non-chronograph models in the Officer Field Series come with Swiss Ronda 517 quartz movements while the chronograph models come with Swiss Ronda 5040.D quartz chronograph movements. The dials feature either green and orange or blue and orange T25 tritium markers. For enhanced visibility, there are two tritium markers at the 12:00 position on each dial and two tritium markers on each hour hand.
The first 12 models in the ArmourLite Officer Field Series will be available for sale later this year. ArmourLite authorized retailers will begin taking pre-orders immediately following JCK Las Vegas.
The ArmourLite Officer Field Series watches offer the following features:
Multicolor T25 tritium markers on the dial (color depends on model)
Stainless steel case construction
Non-Chronograph: Swiss Ronda 517 quartz movement
Chronograph: Swiss Ronda 5040.D quartz chronograph movement
Armourglass crystal
100m water resistance rated for diving
45mm diameter case
Leather band or stainless steel bracelet (depends on model)
MSRP: $440.00–$525.00