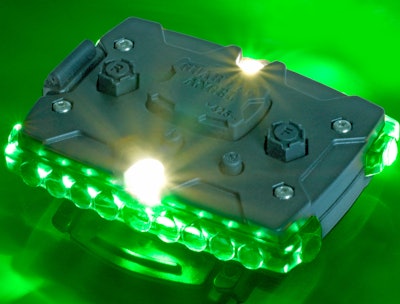 425 Inc., a personal safety device company, has announced the launch of a new line of colors for its Guardian Angel product line to help increase safety by identifying wearers as first responders – as well as emphasizing those in command at an emergency scene.
As the first of its kind for the emergency responder industry, the Guardian Angel is a wearable (approximately 6 oz.) light bar, designed to provide the same immediate visibility and recognition for the wearer as they have in their official vehicles. The new line of available colors takes that recognition one step further, to provide a way for emergency personnel to identify tiers of command.
"Firefighters and other emergency personnel told us they needed a way to quickly and easily pinpoint who is in command at an emergency site," says Juan Gomez, co-founder of 425 Inc. "The new color selections – in particular the solid green, white, and orange colors – were designed to address that need, while still providing the added visibility the wearer needs for enhanced safety and security."
With the latest LED technology with lights that rate up to 930 lumens each, the Guardian Angel provides visibility from more than two miles away, from above, and from a nearly 360-degree radius around the wearer.
Allowing for enhanced customization, the new color combinations available on the Guardian Angel include:
Red and yellow
White and yellow
Solid white
Solid orange
Solid green
The full line of color options is available on the company website: www.425inc.us.
Related: