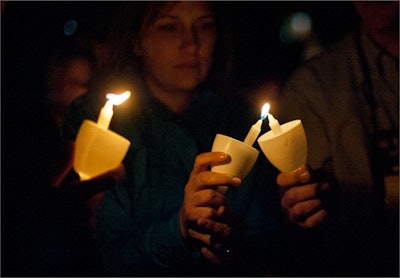 The names of 286 law enforcement officers who have died in the line of duty—including 100 who died in 2013—were formally dedicated on the National Law Enforcement Officers Memorial Tuesday evening during the 26th annual Candlelight Vigil.
U.S. Attorney General Eric H. Holder Jr. delivered poignant keynote remarks and led the lighting of candles and reading of the fallen officers' names. "Across this great country and throughout our history, America's law enforcement officers have come to stand for all that every citizen should aspire to be," said Holder. "That is why we assemble to honor these brave men and women each year during National Police Week."
Secretary of Homeland Security Jeh Johnson and Madeline Neumann, National President of Concerns of Police Survivors (C.O.P.S.), also participated in the annual tribute to fallen officers, a special part of the National Police Week observance in the nation's capital.
The evening's program also featured musical tributes and a special recognition of survivors of fallen officers, as well as some dignitaries and guests, including Sen. Lisa Murkowski representing the state of Alaska.
In addition to the 100 officers who died in 2013, the names of 186 officers, who died in prior years, were added to the Memorial. The national monument now contains the names of 20,267 fallen law enforcement officers—from all 50 states, the District of Columbia, U.S. territories, federal, corrections, railroad, and military police agencies—who died in the performance of duty throughout U.S. history, dating back to the first known officer death in 1791.
"The 20,267 fallen heroes, whose names embrace us this evening, came from different states, counties, and towns across America," said Craig W. Floyd, chairman and CEO of the National Law Enforcement Officers Memorial Fund. "But they all wore the same badge of honor."
An estimated 20,000 people attended the ceremony in person, including surviving family members, friends, law enforcement colleagues, and others. Thousands more participated via a live webcast of the ceremony. Hundreds of supporters dedicated virtual candles participating in the Memorial Fund's United By Light campaign, which also included more than 45 viewing events hosted across the country.
The National Law Enforcement Officers Memorial Fund also partnered with Clear Channel Outdoor to raise awareness across the country to honor these fallen officers, as well as raise awareness about the annual Candlelight Vigil and United By Light events and virtual candle wall. And for the sixth year in a row, USA Today has printed a quarter-page ad in honor of the 100 officers who died in 2013.
Related: