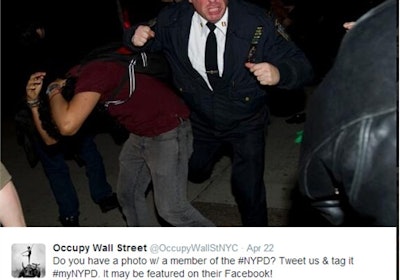 Police Commissioner Bill Bratton on Wednesday defended the NYPD's Twitter outreach campaign that ­became a feeding frenzy for cop haters.
The department had asked its Twitter followers to post photos of themselves with the police using the hashtag #myNYPD.
But most users instead dredged up the worst ­photos they could find, including from Occupy Wall Street clashes, the New York Post reports.
He said a lot of the photos that claimed to show police brutality were completely misleading.
"The reality of policing is that oftentimes our activities are lawful but they look awful," he said. "As I look at a lot of those photos, those officers [are] engaged lawfully in their activities."
On Wednesday, similar hashtags popped up around the country with the same results, including #myLAPD, #myCPD in Chicago and #myOPD in Oakland.