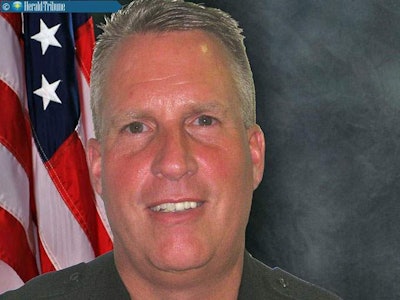 A Manatee County, Fla., sheriff's deputy was shot in the arm during an exchange of gunfire that left a bank robbery suspect dead Monday.
The shootout happened around noon in Bradenton. It wasn't immediately clear whether the suspect was shot by deputies or killed himself, Sheriff Brad Steube told Bay News 9.
The deputy, Lt. Bob Mealy, 52, was shot in the right arm and is expected to fully recover.
According to authorities, the suspect walked into the Florida Bank around 11:30 a.m., displayed a gun and demanded money. He left in a white pickup truck.
Law enforcement responded. Mealy spotted the suspect's truck. A chase followed, and deputies used stop sticks to flatten the truck's tires, authorities said.
After the truck stopped, deputies approached the vehicle, and the suspect fired a shot that struck Mealy, the sheriff's office told Bay News 9. Deputies returned fire, and multiple rounds were changed between the suspect and deputies. The suspect was found dead in the truck. His identity has not been released.