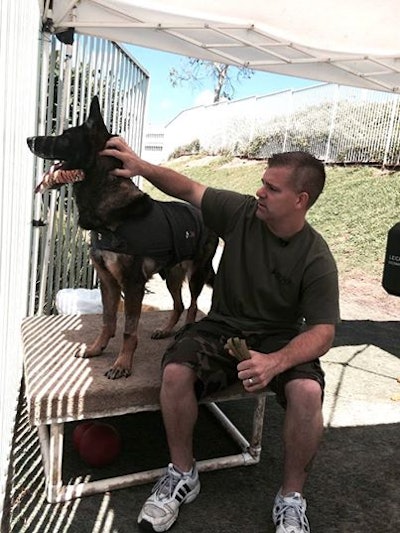 Bruno, the Anaheim, Calif., police K-9 shot in the face March 20 by a suspect in a police chase underwent emergency surgery late Tuesday.
The German shepherd was thought to be headed toward a full recovery when he was hurried into surgery to treat a stomach condition at Yorba Regional Animal Hospital around 11 p.m. The procedure lasted nearly two hours, the Los Angeles Times reports.
Today a post on the Facebook page of the Friends of the Anaheim Police K9 Association reported that the surgery was successful and the K-9 is recovering.
The police dog was initially treated for a shattered jaw and damaged lungs following the shooting and underwent additional surgery last week to have a breathing tube removed.
Bruno's handler, Officer R.J. Young, and police sergeant stayed by the canine's side during the latest surgery, said Cheryl Timmons, president for Friends of the Anaheim Police K9 Association.