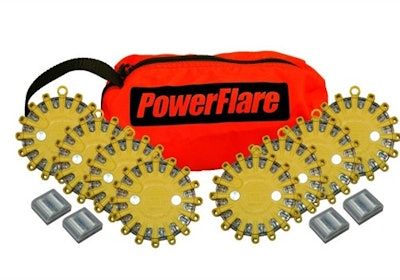 PF Distribution Center, worldwide master distributor of PowerFlare, is offering budget PowerFlare Power Packs and Kits. Budget PowerFlare Packaging Solutions are designed for maximum value to accommodate your safety needs.
The simple-to-use PowerFlare PF-200 electronic beacon is an extremely rugged, military-grade safety device designed to replace incendiary flares. PowerFlares feature the latest in LED light technology, intelligent electronic circuitry, and physical durability, extending their usage to applications far beyond traffic safety.
The economical PowerFlare pays for itself within 24 to 48 hours of use by eliminating the expense of flares and by reducing the labor and risk to personnel, according to the company.
Visibility and safety are paramount. PowerFlare units use super-bright LEDs that can be seen for miles. Unlike an incendiary flare, the PowerFlare unit is not a fire hazard and creates no noxious, toxic fumes. They cause no harm to the environment.
The PowerFlare units are extremely durable and can withstand demanding road conditions without leaving toxic chemicals. They don't corrode and have no external switches or moving parts to break. They are also very reliable and can survive being run over many times and still keep on working.
All units have an easy-to-use one-button operation, capable of turning the unit on and off, cycling through 10 different flash patterns, and providing a single tactical flash. The standard unit (non-rechargeable) will flash from 8 to 150 hours based on the pattern selected before needing a battery change. The Quad-blink pattern will run for over 50 hours and is perfect for accidents and checkpoints. On a single charge, the rechargeable units will flash from 2 to 150 hours based on the pattern selected. They can be set to automatically activate when removed from their smart charger.
PowerFlares are deployable in harsh environments. Units can be used in hot or freezing temperatures and underwater. They are safe to use around gasoline and many other HazMat situations because of their advanced design.
PF Distribution Center offers several budget packaging solutions or can customize a package for your agency.