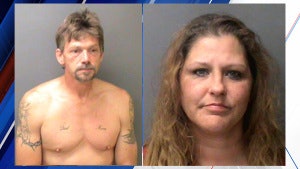 A New Castle, Ind., woman bit a police officer in the calf while she was being arrested during a public intoxication call, police say.
Officers were dispatched to a grocery store late Friday after several witnesses saw a man stumbling around the store and falling down, Fox 59.
Police arrived to find Christopher Scott Razor, 44, having a hard time standing and walking. When he got to his vehicle, he fell against it. Police handcuffed Razor and didn't bother giving him field sobriety tests due to his apparent high level of intoxication, court documents said.
Then when police tried to talk to the driver of the car—Angela D. Riley, 43—things got out of hand.
Riley told police she hadn't been driving and "wasn't doing anything." A PBT put her blood alcohol concentration at 0.16, court documents said. An officer patted down Riley, who then turned "in an aggressive manner" before being placed against the car and put in handcuffs.
While restrained, Riley tried to push herself into the officer and then "began thrashing and attempting to break away." One officer put her in a headlock and began escorting her toward a patrol car. She kept resisting, court documents said, and lay down on the ground.
Police tried to pull her to her feet. Riley then rolled and bit the officer in the right calf. She eventually became compliant and told police she has tested positive for hepatitis, a communicable disease that can cause liver problems. Doctors told the officer that there was a "risk of communicable disease transmission from human bites."