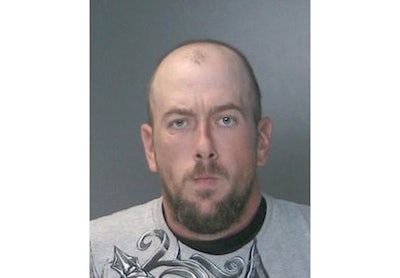 The Suffolk County (N.Y.) Police Department arrested two suspects yesterday following an incident in which a police officer was critically injured in Huntington.
Chad Morizsan, 34, of Ridings Gate, Northport, has been identified by police as the driver of the vehicle that struck and critically injured Second Precinct Crime Section Police Officer Nicholas Guerrero.
Morizsan has been charged with carjacking a Toyota Camry, assault on a police officer, and leaving the scene of an accident that resulted in serious physical injury. In addition he was wanted on three open warrants for violation of probation and petit larceny, LongIsland.com reports.
A passenger in Morizsan's vehicle has also been arrested in this incident. Nicholas Franzone, 22, of Ridings Gate, Northport, has been charged with Unauthorized Use of a Motor Vehicle for his role in the carjacking incident.
Police say the incident occurred Monday afternoon when Suffolk County Officer Nicholas Guerrero and Officer Heriberto Lugo initiated a vehicle stop on Partridge Lane in Huntington. While attempting to speak to the occupants, Officer Guerrero and Officer Lugo were struck by a vehicle which then fled the scene. A short distance away, the vehicle hit another vehicle and the driver reportedly fled. Police say the suspect also forcibly stole a vehicle from a woman on in Commack. Morizsan and Franzone were arrested inside a Target in Central Islip.
Officer Guerrero, 36, who has been with the department four years, was transported via Suffolk County Police helicopter to Stony Brook University Hospital. He was listed in critical condition with a very serious head injury. Officer Guerrero is being monitored in the hospital's Neurosurgical Intensive Care Unit. Officer Lugo was transported to Stony Brook University Hospital where he was treated and released.