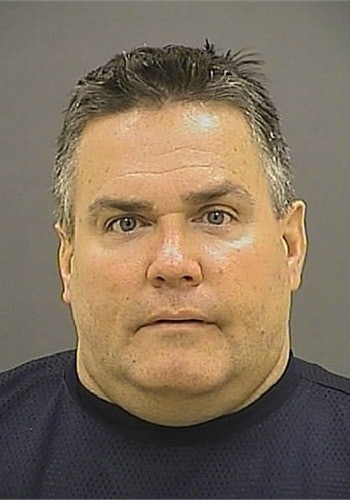 Lawyers for veteran Baltimore officer Jeffrey Bolger said he was legally authorized to kill a shar-pei named Nala in June and was acting to protect the unborn child of a woman the dog had bitten.
Bolger, 49, appeared in court Thursday, and his attorney entered a not-guilty plea on his behalf to two counts of animal mutilation, one f animal cruelty and one of misconduct in office, the Baltimore Sun reports.
Police were called after the dog bit a pregnant woman, his lawyers wrote. After it was restrained with a dog pole, the dog began fighting back and biting at the pole — a struggle Bolger's lawyers say lasted for over an hour.
A medic at the scene told the officers that the dog needed to be tested for rabies urgently, according to the filing. But the police were not equipped to sedate the dog or put it in an animal carrier, the lawyers wrote, so Bolger decided to kill the animal in the safest way he could think of. "… he used his knife in a fashion intended to cause the dog the least amount of pain and place the public in the least amount of danger," his lawyers wrote.
Another officer, Thomas Schmidt, 53, also has been charged in the case. He is accused of holding the dog down and is scheduled to appear in court later this month.