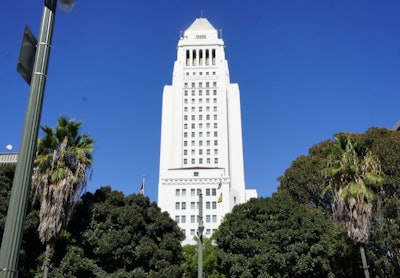 In a dozen lawsuits, hundreds of Los Angeles police officers claim the city violates fair labor standards by making them work through meal breaks and stiffing them for overtime, reports Courthouse News.
Hundreds of unionized police officers sued the city in Federal Court on Monday, in closely related complaints.
The officers had joined other plaintiffs in two fair labor complaints against the city. The new lawsuits were filed after judges decertified the lawsuits, Roberto Alaniz vs. City of Los Angeles, et al., and Cesar Mata vs. City of Los Angeles et al., and dismissed the "opt-in" plaintiffs' claims.
In the latest string of lawsuits, the officers claim the LAPD makes them work through meal breaks, and deducts the so-called "Code 7" breaks from their wages.
The unlawful deductions cause the LAPD to lowball overtime wages by "reducing the hours worked in the gap," the officers say.
Nor does the LAPD take into account the time officers need to prepare or finish arrest reports or preliminary investigation reports, the complaints add.