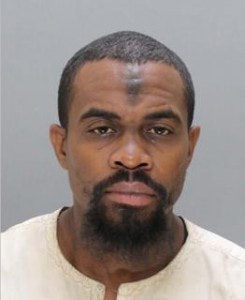 A leader at a West Philadelphia mosque was arrested for allegedly trying to chop off the hand of a member accused of stealing money from prayer jars, police said Friday.
Merv Mitchell, 37, was arrested Thursday night when police executed a search warrant at Masjid Ar-Razaqq Ul-Karim in the 1100 block of North 63rd Street, Lt. John Walker of Southwest Detectives told Philly.com.
The attack happened after a prayer service Monday morning. Mitchell, also known as C, accused the 46-year-old mosque member of the theft.
The accused immediately denied it, but to no avail. Mitchell and the mosque's imam carried the accused down a flight of stairs to the backyard of the mosque, a converted house, where Mitchell also lives, Walker said.
They put the victim's wrist on a log, and Mitchell reportedly picked up a two-foot-long machete and "swung at [the accused's] wrist, cut through his skin, and cut his tendons, but didn't make it all the way" because the blade was dull, Walker said.