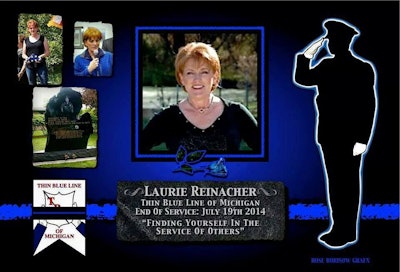 The Founder and Executive Director of Thin Blue Line of Michigan, Laurie Ann Reinacher, age 56, passed away peacefully at home while surrounded by her loving family early Saturday morning, July 19, 2014.
According to their mission statement, The Thin Blue Line of Michigan is a non-profit organization, which exists to provide assistance in the areas of financial, legal, benefit recovery, counseling, funeral stipends, college stipends, medical costs, medical equipment and other areas of hardship to the families of injured, personal illness, disabled or deceased members of the law enforcement community in addition to Firefighters, Dispatchers, Corrections, EMT, EMS and Administrative Clerks.
The Grand Rapids Police Department posted on their Facebook page:
"Our thoughts and prayers go out to the family of Laurie Reinacher who was a champion of injured and fallen officers. A founding member of the Thin Blue Line of Michigan and a surviving spouse of an officer killed in the line of duty, Laurie fought hard for the men and women in law enforcement. Sadly, she lost her battle to cancer, but her legacy will always live on. Thank you Laurie, we will forever remember your dedication, tenacity, and love. Rest in peace."