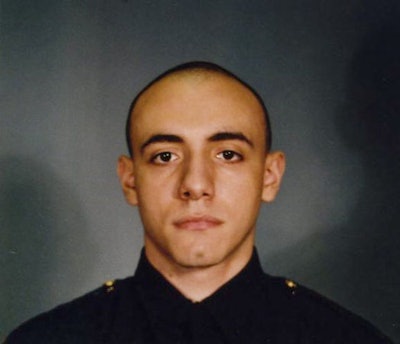 As Jersey City mourns a police officer, others grieve for a cop killer.
On Orient Avenue sits a memorial to Lawrence Campbell, the man who fatally shot Officer Melvin Santiago early Sunday morning.
About two dozen candles and an assortment of empty liquor bottles sit on the sidewalk. Above them, two white t-shirts fixed to the red brick wall feature messages to Campbell scrawled with black markers, the Jersey Journal reports.
"Thug In Peace."
"Live Life My Bro."
"SEE U ON THE OTHER SIDE. LUV - DRAMA."
Barbara Jones, of Bayview Avenue, approached Campbell's memorial late yesterday morning to add a note to the t-shirts. Her message: "RIP, Bro – Jones fam."
"He was a good man," Jones said. "He looked out for everybody on the block."
Angelique Campbell, Campbell's widow, told News 12 New Jersey on Sunday that she was sorry for Santiago's family but that her husband should have killed more officers if they were planning to kill him. She later apologized for the comments.
Mayor Steven Fulop called Angelique Campbell's comments "ignorant" and "disgusting." Police Director James Shea said they weren't representative of the city or even of Campbell's neighborhood in southwest Jersey City, where the majority of shootings in the city take place and where distrust of police is as much a staple as boarded-up houses and groups of young men hanging out on street corners at midday, the Associated Press reports.
Related Story:
New Jersey Officer Ambushed, Killed Responding to Armed Robbery
Newscast Reports on Memorial to Cop Killer Suspect