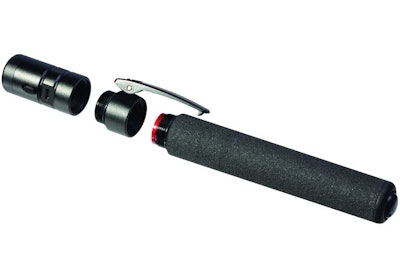 Armament Systems and Procedures (ASP) has introduced the new Fusion Baton. The Fusion combines three essential law enforcement tools into one unit by combining a baton, light, and scabbard. The Fusion is a compact, easily carried, readily deployed tactical package.
The Series A (Aluminum) and Series B (Steel) Fusion Batons combine a 1- inch Friction Loc expandable baton with a Nexus Clip and Tactical USB high intensity rechargeable LED flashlight. Each Fusion is produced from duty grade components to create batons of unmatched strength and durability.
The Nexus Clip allows the baton to be worn on the belt, waistband or in a pocket. This secure polymer torsion spring belt clip will not abrade clothing. It provides a firm hold on the baton and will not injure the subject or the hand of the officer.
The Tactical USB is powered by a custom Lithium polymer battery. Its Cree XPG2 LED light produces a powerful 100 lumens of brilliant white light with a continuous run time of about 45 minutes as measured against the ANSI FL-1 Standard.
The light employs a high output, thermally controlled LED. The Total Internal Reflector (TIR) produces a beam that is blindingly bright. It provides a room illuminating halo of light while projecting a penetrating central beam of incredible intensity.
Charging on the go is allowed by connecting the retractable cord to the micro USB port of the Tactical USB. The LED indicator will blink red while charging and turn solid green when fully charged.
Small, bright, easily clipped and rechargeable. A backup light and baton that are always at hand. The Fusion Baton from ASP.
The Fusion comes with a limited lifetime warranty and a retractable USB to micro USB cord. Car and wall chargers are available through ASP. MSRP is $162 for Series A and $150 for Series B.
For more information visit www.asp-usa.com.