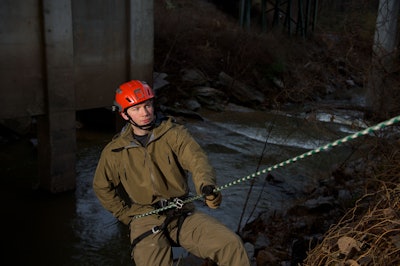 With more than 15 years of experience developing leading-edge products that protect against serious and potentially life-threatening injuries, the Cleveland-based company Team Wendy is launching two Exfil helmet models for search and rescue personnel and outdoor adventurers—the Exfil SAR Tactical and Exfil SAR Backcountry. These search-and-rescue helmets are built to offer tactical accessory mounting capabilities while providing protection that meets key industrial and mountaineering requirements.
"This helmet represents the first true marriage between tactical and professional search and rescue," said Team Wendy CEO Jose Rizo Patron. "The innovations we've developed to support our soldiers will provide the search-and-rescue and mountaineering communities with a superior level of protection and performance. The Exfil SAR helmets will have the look and feel—as well as the safety and quality—that Team Wendy has built its reputation on. These are Team Wendy Exfil helmets through and through."
The Tactical model is optimized for use with night vision devices and features a machined aluminum Wilcox NVG shroud insert as well as a four-point adjustable CAM-FIT retention system with full chin cup. For users who do not operate with night vision, the Backcountry sports a glass-reinforced polycarbonate shroud insert for mounting cameras and lights, and an under-the-chin retention strap with magnetic closure. Both models are ideal mounting platforms and are compatible with rail mounted accessories, such as the Exfil Quick Release Adapter and Exfil Peltor Quick Release Adapter. Additional accessories will be released later this year.
The protection offered by the Exfil SAR Tactical and Exfil SAR Backcountry is highlighted by meeting a wide variety of performance standards, including EN12492 European Standard for Mountaineering Helmets, EN1385 European Standard for Whitewater Helmets, and current Advanced Combat Helmet (ACH) blunt impact requirements. The helmet also provides a high level of off-crown shock absorption not seen in many industrial and climbing helmets, meeting this requirement of EN14052 European Standard for High Performance Industrial Helmets.
Both the Exfil SAR Tactical and Backcountry models are available in the following standard colors: white, red, black, and U.S. Coast Guard orange. Each helmet is available in one size that fits a head circumference of 53–63 cm / 20 ⅞–24 ¾ inches (US hat size 6 ⅝ – 7 ⅞).
The Exfil SAR Tactical retails for $304.95, while the Exfil SAR Backcountry is available for $179.99 without side rails or $215.94 with side rails. Exfil SAR orders are now being accepted, and Team Wendy will begin shipping helmets in February.