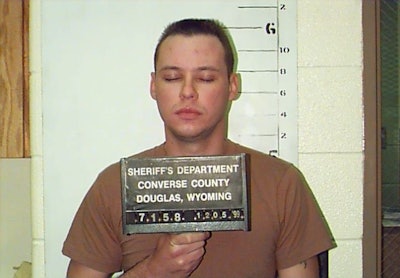 Donald London, the man charged with shooting a South Dakota Highway Patrol officer during a standoff last week, was a police officer in Wyoming from 1998 to 1999, reports the Daily Republic.
London, 42, was arrested Thursday afternoon when he surrendered after spending more than a day barricaded in a residence near Kimball.
"Law enforcement was told that Donald London was loading guns into his vehicle and was going to Chamberlain to kill law enforcement officers," Chris Konrad, an agent with the South Dakota Division of Criminal Investigation, wrote in an affidavit, according to the Associated Press.
Sgt. John Koenig, a 28-year veteran with the Highway Patrol who is stationed in Chamberlain, was wounded by a shot fired during the standoff, according to South Dakota Highway Patrol Superintendent Col. Craig Price. Officials said Koenig was struck in the arm and side by the round. He has since been released from the hospital.
London was a police officer in Wheatland, Wyo., in 1998-1999. He was imprisoned and his career ended after passing counterfeit money.
London and his father were charged Friday with several felonies for the standoff, reports the Associated Press.
Related: