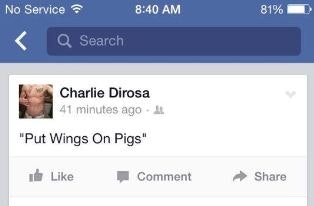 A Chicopee, Mass., man who officials say made a threatening comment towards police on a social media page will be charged.
Police say Charles Dirosa wrote, "Put Wings On Pigs" on his Facebook page Monday, two days after NYPD officers were ambushed and murdered in Brooklyn by a man who used the same phrase.
Followers of the Chicopee Police Department Facebook page alerted officials to the post and detectives investigated what they called a disturbing comment.
Chicopee police say Dirosa will be summonsed to court for threatening to commit a crime.