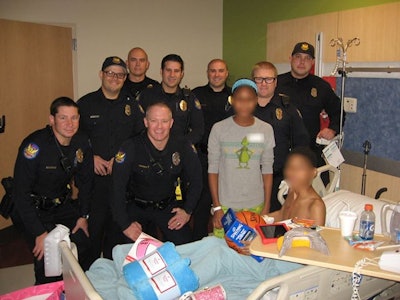 At around 12:30 am on Monday Dec. 15, Phoenix officers were called to a residence because a mother had called police to report that her children were dying.
When officers arrived they met with the mother in front of the home and were directed inside. Officers entered the home and found a 12-year-old girl and her 13-year-old brother both suffering from stab wounds.
The girl had a puncture wound to her chest. She told officers she had been asleep when she woke up to her mother stabbing her. Police say they also soon discovered that the boy had also been stabbed several times.
The mother was arrested.
A subsequent investigation showed the children had no other family to care for them, which meant they would be heading to the care of Arizona Child Protective Services once released from the hospital.
Phoenix Police officers who responded to the home say they were profoundly affected by the plight of these children, and they wanted to give the children a little hope.
So on Tuesday Dec. 16, the officers came together and purchased Christmas gifts fit for the children. The officers then went to the hospital to spend time with the children and present them with the gifts.