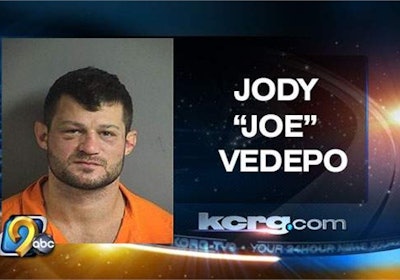 A mixed martial artist sent an Iowa City Police Officer to the hospital Friday during a drunken altercation.
According to Iowa City police criminal complaints, officers responded to the Sports Column at 2:22 p.m. Friday for a report of a man inside who refused to leave. Responding officers encountered Jody "Joe" Vedepo, 31, of Columbus Junction, who is also known as "The Doctor" according to Ultimate Fighting Championship and other mixed martial arts websites.
Police said Vedepo told officers he "knew his rights" and was going back into the bar. Vedepo resisted the officers and head butted one officer in the chest, sending him to the hospital with injuries to his back. Officers took Vedepo to the ground and attempted to handcuff him, but he rolled his body and kicked his legs. Officers deployed a Taser in an attempt to subdue Vedepo, but it was ineffective, police told KCRG TV.
Vedepo was arrested and now faces one count of assault causing injury to a peace officer, an aggravated misdemeanor; two counts of assault on peace officers, a serious misdemeanor; and one count of public intoxication, a simple misdemeanor. His post arrest breath test indicated he had a blood alcohol content of .241 percent or three times the legal limit to operate a vehicle in Iowa.
According to various websites, Vedepo has compiled a 17-9-0 record in professional mixed martial arts, including appearances in both the Ultimate Fighting Championship and Bellator MMA. He last fought professionally on Nov. 15, losing to Muhammed Lawal via technical knockout.