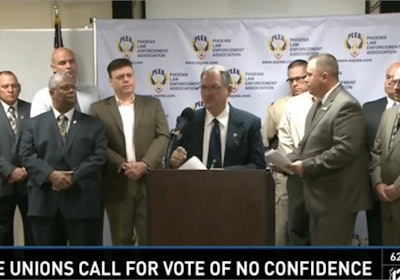 Phoenix police unions on Monday announced a joint vote of "no confidence" for Phoenix Police Chief Daniel V. Garcia, an uncommon recourse spurred by the suicide of a former officer diagnosed with post-traumatic stress disorder.
Officials from the Phoenix Law Enforcement Association and the Phoenix Police Sergeants and Lieutenants Association told AZCentral.com the death of former Officer Craig Tiger was symptomatic of a larger pattern of low morale among rank-and-file officers and a culture of "tyrannical" leadership by Garcia.
Garcia issued a statement in response to the vote that said the circumstances surrounding Tiger's death were extremely unfortunate.
The unions will collect votes from their members throughout the next month and plan to present their findings to City Manager Ed Zuercher.
The Phoenix police chief's employment is at the discretion of the city manager, who reports to the City Council.