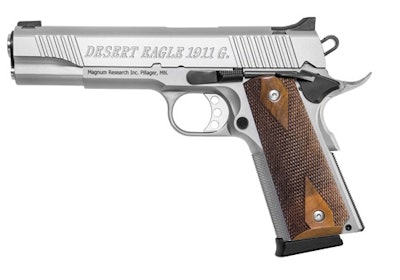 Magnum Research Inc. (MRI), a U.S.-based manufacturer of firearms, has introduced three new models to the Desert Eagle 1911 product line. The popular Desert Eagle 1911G, 1911C and 1911U are now also offered in stainless steel.
The first of the stainless steel offerings is the full-sized DE1911GSS. It features a 5.05" barrel, 8.625" OA Length, slide width of 1.28", and a weight of 36.2 oz. The slide thickness
is 0.92", grip thickness of 1.30", with a trigger pull of 3-4 lbs., and a trigger reach of 2.77". The grip has front strap checkering at 20 lines per inch. It has a high-profile sculptured rear sight, drift adjustable for windage, pinned-in white dot front sight. It is shipped with two 8 round magazines. All three models have the Series 70 configuration. MSRP is $904.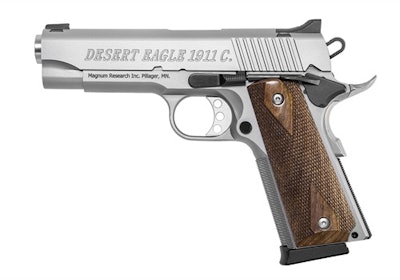 The slightly smaller DE1911CSS has many of the same features as the 1911GSS, but it has a shorter barrel length of 4.33", overall length of 7.87" and weighs just 33.9 oz. MSRP is $904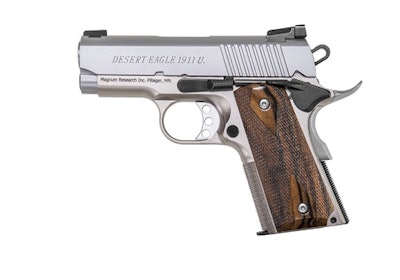 The smallest 1911, the "U", undercover model, was first introduced last year, and it now features an aluminum anodized frame and a stainless steel slide. The DE1911USS has a barrel length of just 3", height is 5", an overall length of 6.85", and weighing in at a mere 25.8 oz. making it perfect for concealed carry. MSRP is $1,019.00.
"The demand for our 1911 models has always been strong for Magnum Research." stated Jim Tertin, director of manufacturing for Magnum Research. "So we decided to dress it up, and with the combination of the crisp trigger pull and the accuracy, this will be a very fun gun to shoot. It looks good, fits well in your hand and with stainless steel you can expect to be able to pass it down to your son or daughter."