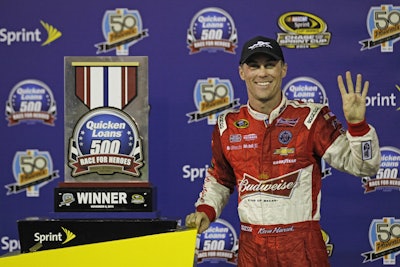 Wiley X-sponsored NASCAR driver Kevin Harvick dominated the track at the Quicken Loans Race for Heroes 500 at Phoenix International Speedway on Sunday, November 9. While the victory gave Harvick a season sweep at the track and was his fourth win in his last five races there, this victory was particularly rewarding for another very important reason. By taking Sunday's checkered flag, Harvick survived the Chase for the Sprint Cup Eliminator Round and will move on to next week's Chase for the Sprint Cup championship race at Florida's Homestead-Miami Speedway. Four drivers — Harvick, Joey Logano (also sponsored by Wiley X), Denny Hamlin and Ryan Newman — will compete for the Sprint Cup title. The highest finishing driver at Homestead-Miami next Sunday will be crowned champion and claim the 2015 series title.
"This is so exciting, that after a long, thrilling season of racing it all comes down to one final challenge to earn the Cup and the title of champion," said Wiley X Co-Owner Myles Freeman, Jr. "We're very proud to have two of our Team Wiley X drivers among the final four — and you can bet we'll be rooting them on next weekend. As far as we're concerned, they're both champions for performing so well over a long and grueling racing season," added Freeman.
The relationship between top NASCAR racers like Harvick, Logano, Carl Edwards, Matt Kenseth, Greg Biffle and others is a natural one. These drivers depend on Wiley X's sharp vision and high-velocity protection, whether they're out on the track, on the highway or enjoying outdoor activities. Wiley X sunglasses meet stringent ANSI Z87.1 High Velocity and High Mass Impact Safety standards, providing occupational-grade protection for all active lifestyle enthusiasts. Wiley X is the only premium sunglass brand with this level of vision protection in every pair of glasses it makes — a big reason why the company is a leading provider of protective eyewear systems to U.S. military, law enforcement, professional fishermen and others who perform in challenging conditions.
In addition, almost every Wiley X model is Rx-ready, making Wiley X eyewear the perfect, no-compromise solution for people who want the style and protection benefits of Wiley X with prescription vision. Wiley X DIGIFORCE digital Rx lens technology provides wearers with superior prescription accuracy and clarity, along with the widest possible field of vision.
To learn more about the advanced Wiley X sunglasses worn by top NASCAR drivers — as well as their fans around the world — visit www.wileyx.com or contact Wiley X, Inc. at 7800 Patterson Pass Road, Livermore, CA 94550 • Telephone: (800) 776-7842