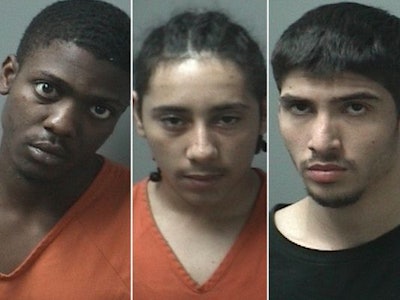 Bloomington police shot and wounded two rape suspects at a house near the Indiana University campus where two students were assaulted.
The three men broke into a home occupied by female Indiana University students and sexually assaulted two women, police told the Indianapolis Star. A woman called police shortly before 4:30 a.m. saying one of her roommates was screaming and that she believed the woman was being raped. As it turned out, two IU students, both 24, were sexually assaulted, police said.
The first officer to arrive at the scene about 4:30 a.m. Sunday found the door partially open, Bloomington Police Capt. Joe Qualters said. Two shots were fired from inside after the officer shouted "police," Qualters said, then two men climbed out a window and ran.
The officer shot the two 19-year-old Indianapolis men after a shot was fired at him, police said. Qualters said the officer wasn't injured. One man was shot in the arm and the other in the leg, he said.
The wounded men face preliminary charges including rape and attempted murder. A third man faces burglary and other charges.
Police said the suspects were in Bloomington to party over the weekend.