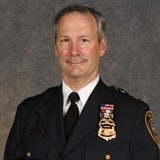 Nearly 100% of Milwaukee police officers who participated in a union vote Thursday signaled they have no confidence in Police Chief Edward Flynn, the police union announced Friday.
Two dozen Milwaukee police officers gathered in the City Hall rotunda Friday morning to reveal the results of the non-binding vote, which union leaders said they hoped would get the attention of Mayor Tom Barrett, the Common Council and the city's Fire and Police Commission.
The union said 99.3% of members who voted chose no-confidence in Flynn. The union did not disclose the total number of members who voted but indicated it was a higher than average turnout, which union president Mike Crivello told the Milwaukee Journal Sentinel Thursday was between 400 and 500 members.
The union's total membership is about 1,600.
The vote was prompted by Flynn's decision to fire officer Christopher Manney after the fatal shooting of Dontre Hamilton at Red Arrow Park. Manney shot Hamilton 14 times on April 30 during a confrontation at the park.
Flynn has said he fired Manney not for using excessive force, but because he did not follow department rules in the moments leading up to the shooting and engaged in what Flynn described as an "out of policy pat-down." Manney has appealed his dismissal to the Fire and Police Commission.