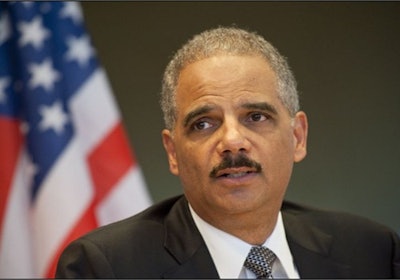 Attorney General Eric Holder said Wednesday that there was a need for "wholesale change" in the Ferguson, Mo., police department, as a range of Missouri officials were privately debating what the future of the department and its leadership should be.
Holder made his comment as this suburb of St. Louis awaited the return of a grand jury that has for months been weighing whether charges should be brought in the fatal shooting of Michael Brown, an unarmed black teenager, by Darren Wilson, a white Ferguson police officer, on Aug. 9. Concerns that the grand jury may bring no charges and thus stir new tumult in this city, where protests have been held nightly, have left many in the region — like school administrators to business owners — bracing for the decision, which could come next month.
Thomas Jackson, the city's police chief, who has at times been a focal point for protesters' complaints, said in an interview with the New York Times Wednesday that he had no plans to leave. "I'm the police chief here," he said, "and I have a job to do and I enjoy my job, and I have the support and confidence of the people that work here and the people I work for."
But the discussions in recent weeks among the Missouri congressional delegation, the Missouri governor's office and the St. Louis County Police have included consideration of options for replacing Chief Jackson, according to an official briefed on those talks who spoke on condition of anonymity because the conversations were private.
One option being pondered, the official said, would involve giving St. Louis County the authority to police Ferguson, a majority black community of about 21,000 residents with a police force of 53 officers, most of them white. Dissolving the Ferguson Police Department would require the negotiation of a complex contract between Ferguson city officials and St. Louis County, as well as approval of the City Council, according to the city charter.