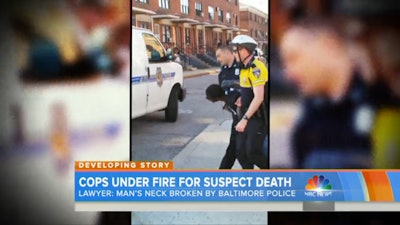 Baltimore's mayor, police officials, and prosecutor sought to calm their city Monday, while six officers were suspended as authorities investigated how a suspect suffered a fatal spine injury in police custody last week.
A week after Freddie Gray, 25, was pulled off the street and into a police van, authorities don't have any videos or other evidence explaining what happened to cause the "medical emergency" an arresting officer said Gray suffered while being taken to the local police station, Deputy Commissioner Jerry Rodriguez said.
The Gray family's lawyer, Billy Murphy, had said that Gray's "spine was 80 percent severed at his neck."
Autopsy results returned Monday show that Gray "did suffer a significant spinal injury that led to his death," Rodriguez told Fox News. "What we don't know is how he suffered that injury."
In a police report obtained by The Baltimore Sun, Officer Garrett Miller wrote that police on bike patrol stopped Gray April 12 after he was seen fleeing "unprovoked upon noticing police presence." Police said a knife was found clipped to Gray's pants pocket and he was arrested on a weapons charge.
The video taken by a bystander of the arrest does not show the injury occurring, but did capture four police officers dragging a screaming Gray to a police van.