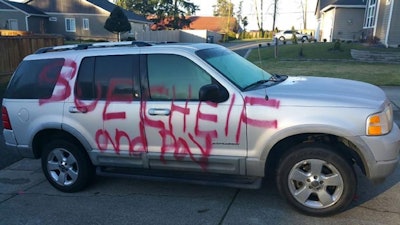 A small town in the shadow of a volcano in Washington state is simmering with racial tensions over a fired African-American police officer's claims of discrimination.
Gerry Pickens, 28, alleges he suffered racist jokes, different treatment from the entirely white rest of the force and an undeserved dismissal at the end of his first-year probationary period with the Orting Police Department last year, The Washington Post reported.
Vandals later wrote "N-----" on his SUV and threatened him "sue cheif [sic] and pay," and Pickens filed a $5 million damages claim against the city in February, KING-TV reported.
Pickens' colleagues called him the "black juvenile" after a local resident dialed 9-1-1 to report that a "black juvenile" was driving a police car shortly after he had started his beat and moved his family from Atlanta to the town 30 miles from Mount Rainier, the New York Daily News reports.