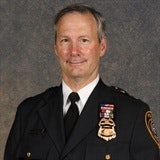 A man is shot dead after accidentally crushing a toddler with his van; in the gunfire, the toddler's teenage brother suffers fatal injuries. A 17-year-old girl is slain by an errant bullet after two other girls in an argument call their boyfriends for backup. A 4-year-old girl is wounded after 13 bullets rip through her home.
Dozens of violent incidents so far this year have left at least 43 dead, and the number may already be higher, with police investigating the deaths of two people Friday as possible homicide by arson.
The questions abound. What were they thinking? How could this happen? Who is to blame? And most important: What can be done?
In a meeting Friday with Milwaukee Journal Sentinel editors and reporters, Milwaukee Mayor Tom Barrett and Police Chief Edward Flynn singled out Wisconsin's 2011 concealed carry law for criticism, saying shooting incidents are up every year since it was approved. Particularly galling to them: The law forbids virtually all concealed carry data from being released — even to law enforcement — making it impossible to gauge its ramifications.
Barrett and Flynn have long argued that guns are too easy to purchase and too easy to keep. Carrying a gun without a permit is almost always a misdemeanor, no matter how many times someone does it. Further, people with multiple misdemeanor convictions remain eligible for concealed carry permits.