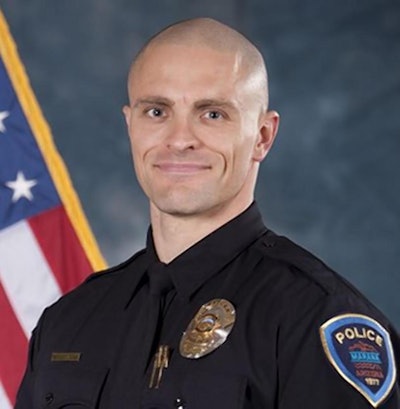 An Arizona police officer who is being hailed as a hero for ramming his police cruiser into a rifle-toting suspect had no choice but to use his car as a weapon to end the armed man's crime spree, he said.
"I wanted to stop the threat. That was the only thing on my mind," police officer Michael Rapiejko calmly told a prosecutor in an interview obtained Friday by the Associated Press.
Rapiejko, a former NYPD officer who calls himself Robocop because of his intense workout regimen, plowed his patrol car into suspect Mario Valencia, who was on a rampage and headed toward locked-down businesses, the New York Daily News reports.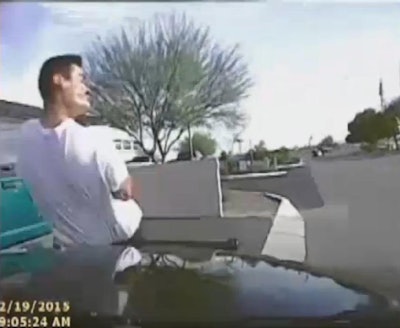 Video of the incident was released last week.
"I have two thoughts going through my mind," Rapiejko said. "I need to shoot him to stop the threat, or I need to run him over to stop the threat."
The 34-year-old officer from the Marana Police Department ruled out shooting the suspect because he was too far away and didn't want to put other officers and bystanders at risk.
Valencia's crime-spree allegedly started after he robbed a 7-Eleven in his underwear, and then stole a rifle and box of ammunition from a Tucson Walmart.
He then broke into a church, setting it on fire, invaded a home and boosted a car before storming the busy Tucson business corridor, police said.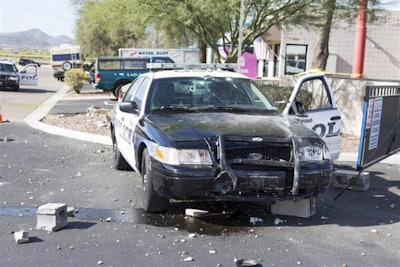 Valencia spent two days in the hospital before being booked into jail on multiple felony charges.
The Pima County Attorney's Office has determined that Rapiejko's actions were justified.
Related:
Video: Arizona Police Car Rams Suspect, Ending Day-Long Crime Spree