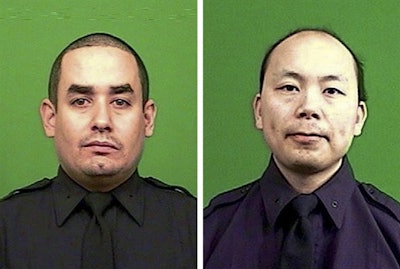 Almost four months to the day after they were killed in their patrol car while in the line of duty in Brooklyn, a shooting incident that numbed a city for its cold-blooded nature, the families of slain NYPD officers Rafael Ramos and Wenjian Liu made an emotional visit to Citi Field for the Mets' home opener in New York Monday, reports the New York Daily News.
Prior to taking on the Phillies, the Mets played host to Liu's widow, Pei Xia Chen; and Liu's parents, Xiu Yan Li and Wei Tang Liu; Ramos' widow, Maritza; and the Ramos sons, Justin and Jaden, lifelong Mets fans who attended a game last season with their father.
The young Ramos boys — Justin is a sophomore at Bowdoin College in Maine — along with their mother joined Chen and Liu's parents in throwing out the ceremonial first pitch Monday under a sun-splashed Citi Field. After more than 150 NYPD officers unfurled a giant American flag in the outfield, Officer Lauren Leggio sang the national anthem and three NYPD Aviation Unit helicopters did a flyover. Both officers were stationed in the 84th precinct and were posthumously promoted to rank of detective.
Then the family members took to the mound ahead of Mets starter Jacob deGrom. The righthanded Ramos boys and Chen each fired strikes.
"What I've seen since this has all happened — the team, all its players, coaches, staff, front office people — have had the pleasure of meeting both of these families. There is really a connection now," said Mets COO Jeff Wilpon. "It feels great to be standing at Opening Day having them throw out the first pitch for us. The connection will be there for a long time."